Who We Are...
A nurturing space is important to us. A place to call "home", whether for a special brief period of time or longer, is essential to well-being. We believe that home is where the heart can linger, your mind can quiet itself and family can create sweet memories.
NEST was born with this idea of creating and helping maintain this special place called "home". In our busy lives, time is at a premium. Our services can help you relax more fully by taking away some of the worry and stress by shortening your 'to do' list and fostering a sense of peace and pleasant anticipation of your mountain home stay. The moment you arrive, your relaxation and Wet Mountain Valley adventures begin. Recently expanded services, help VRBO properties sparkle, guests feel welcomed and our NEST menu & specials add flair to the stay.
Lise Morgan, NEST proprietor, is a career culinary arts and special education teacher. Her skill set includes keen organization and planning, time management, creative thinking and excellent communication . Lise is currently creating her own nest in Westcliffe with her husband Bill and enjoying all this charming mountain community has to offer.
NEST Home Services is a L.L.C. and insured. We are happy to provide references upon request. Lise would love to speak with you; contact her today. You are invited to follow us on Facebook, to keep abreast of specials and seasonal delights at Facebook.com/mymountainnest.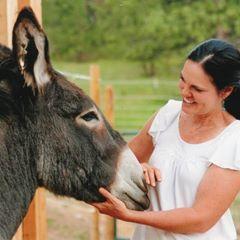 Lise and one of her best friends, Samwise.
Nest Home Services, LLC mymountainnest.com